Bunny Buddies' mission is to save and improve the lives of domestic rabbits and enrich the relationship between house rabbits and their human caregivers.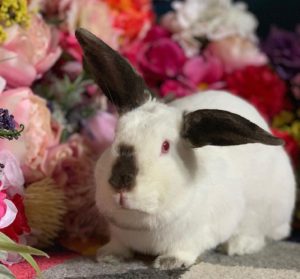 As a 501(c)(3) nonprofit organization primarily serving the Greater Houston area, Bunny Buddies Inc. is dedicated to house rabbit rescue, education, and advocacy. Through a network of animal shelters, veterinarians, foster families, and volunteers, Bunny Buddies works to save domestic rabbits from abandonment and euthanasia, provide them with necessary veterinary care, and spay/neuter and foster them until permanent adoptive homes can be found. We also educate the public and shelter volunteers and staff about proper care and try to mitigate the widespread misconceptions and misinformation about these wonderful creatures.
We strive to offer opportunities for education in house rabbit care, including opportunities for socializing and networking with Houston-area house rabbit enthusiasts.
While we attempt to keep up-to-date information to assist with locating rabbit-savvy veterinarians, we are not qualified to give medical advice.
Because of our dedicated volunteers and generous donations, we are able to work with individuals and area shelters to help save many abandoned and surrendered rabbits who would otherwise face euthanasia.
We have had tremendous success in facilitating adoptions, helping to make the best possible human/rabbit matches and working with these adopters to ensure a happy home environment for all.
By spending time with and socializing them, we are able to find homes for many rabbits who would otherwise be considered "unadoptable." In most cases, the rabbits who enter our care are able to become beloved family members in their new, "forever" homes.
Because of the unacceptably high numbers of rabbits who are surrendered, abandoned, and euthanized each and every year, we do not support rabbit breeding practices. All rabbits in our care are spayed/neutered before being made available for adoption.
Domestic rabbits housed outdoors are often denied the love and attention they need, and life outside in Houston presents several dangers that contribute to diminished quality of life and a shortened life span. Therefore, we adopt only to homes in which the rabbit will live indoors, and we encourage all rabbit guardians to explore the possibility of bringing their rabbits inside.
Our history
Bunny Buddies began in 1996 when local animal shelter volunteers and house rabbit guardians Janis (Abel) Hyde, Elizabeth Murphy, Helen Swann, and Nichole Taylor realized that Houston needed a group dedicated to educating the public about house rabbits. Bunny Buddies officially incorporated as a 501(c)(3) nonprofit organization in September 1997. Since then, Bunny Buddies' dedicated volunteers have helped improve the lives of countless rabbits and the people who care for them.
Governance
As a corporation registered in the State of Texas and recognized by the IRS as a tax-exempt charitable organization under Section 501(c)(3) of the tax code, Bunny Buddies is governed by a Board of Directors. Currently, the board is comprised of 3 directors: Sarah Fleming, Shawn O'Neill, and Kimberly Silver.
Shelter campaign
Bunny Buddies is very excited to be conducting a Shelter Campaign to raise funds to open Houston's first and only shelter for domestic rabbits!
The need for a rabbit shelter in Houston area is enormous. Many people are surprised to learn that rabbits are the third-most surrendered animal at shelters. We currently average one surrender request every single day and have to turn away about three bunnies for every one we are able to accept. We work with more than 30 shelters and rescue groups in the Greater Houston Area, and only a couple of those will take rabbits; the rest of them call us for help. Even the shelters which do take in rabbits—although they work diligently to give them proper care—provide an environment which can be frightening and stressful for rabbits; that's simply the nature of a multi-species facility.
For the past 25+ years, we have operated entirely through volunteer foster homes. While a loving foster family is definitely the ideal situation, and fostering will continue to be a vital part of our program, the need is far greater than our network of volunteer foster homes can meet. With the opening of our own shelter, we will be able to augment our foster system to provide a last-chance safety net to those bunnies who—until now—we've had to turn away.
Our shelter will also serve as an adoption center, which will make it much easier to pair homeless bunnies with their forever families, a place where bunny lovers can come for resources and supplies, and a space in which we can provide educational opportunities for the general public. Of equal importance is the message that the existence of a shelter exclusively for house rabbits will send our Greater Houston Community: Rabbits matter!
Without a doubt, the prospect of running a shelter is daunting. But in conversations with people across the country who are already operating shelters, one theme keeps coming through: "it can be done!" There are still many questions to be answered in preparation for this huge undertaking. One thing is certain, though: the first step in getting there is committing to the journey. We hope you'll want to join Bunny Buddies on this journey as—together—we save the world… one bunny at a time!