Because we are a network of volunteer foster homes and have no shelter, our resources to help with rehoming a rabbit are limited. We give space priority to Bunny Buddies adoptions who must come back into our foster care and area shelter bunnies whose time is expiring. This usually does not leave space for additional rabbits.
Before you surrender your bunny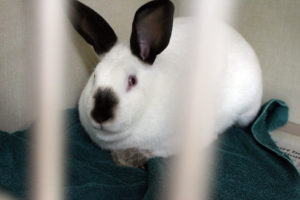 We appreciate that you are trying to help a house rabbit find a new home. There are many reasons people may be faced with needing to surrender their companion animals, and it can be a very difficult decision. Please take a moment to learn about your options.
Maybe we can help resolve an underlying problem
Ideally, we would like to help make it possible for you to keep your pet. Some of the most common reasons people surrender a pet are "fixable" problems.
Spay/neuter: When a bunny reaches four or five months of age, a number of problems begin to manifest. Spraying, aggressive behavior, and destructive behaviors can all result. These can very often be lessened or alleviated with spaying/neutering. If such behaviors are a factor in your decision, discuss that with one of our volunteers; we might be able to help.
Destructive behaviors: Chewing and digging are natural behaviors for rabbits, but we may be able to show you ways to "bunnyproof" your home and/or provide alternative, more acceptable outlets for these behaviors. It could also be that your bunny may be trying to tell you something. Perhaps there is a medical issue or something in the bunny's home environment that is triggering this behavior.
Poor litterbox habbits: Few pets are "perfect" in this department, but there are usually ways to help your bunny improve. Let us put our "experts" on the case and see if we can help.
If you must surrender your bunny
If you have made the difficult decision to surrender your rabbit, please contact the following Houston-area shelters:
All of these shelters have quite a bit of success facilitating rabbit adoptions. We work especially closely with CAP, and we can attest to how thoroughly they vet their prospective adopters.
Other ways to find a new home on your own
Place an ad on social media and in vets' offices.
Train your rabbit to use her litterbox.
Interact with the rabbit so she is used to people.
Provide her with toys to show prospective adopters that she is a fun, interesting companion animal.
NEVER offer your rabbit for free. Insist on at least modest $20 charge. This will prevent your rabbit from becoming food for people or other animals.
Insist that your rabbit go to an indoor home only.
Recommend that prospective adopters read our Rabbit Care Guide or any of the other literature mentioned on this site.
Never set a rabbit free!
Nothing is more cruel than abandoning a domesticated animal to fend for itself in the wild. Domestic rabbits are a completely different species from the wild rabbits native to North America. Centuries of selective breeding have taken away their instincts (and natural camouflage) to fend for themselves, and they are sure to face a horrible death.